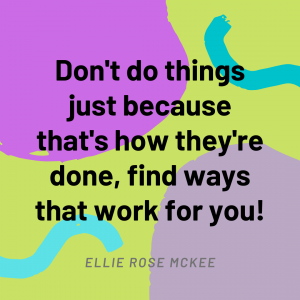 I am a chill, casual person––except for when I'm not.
Sometimes I like rules just fine––especially the ones I make myself––it's just rules that have lost sight of why they exist, or rules that exist just for the sake of existing that drive me nuts.
For example, I am against homework and school uniforms because studies have shown that they not only don't work, but actually further disadvantage families that are already struggling.
And I hate pointless pomp and circumstance at formal events.
But I love lists, and colour coding, and diagrams. You know, useful sh*t.
Do I mentally correct people's grammar in my head as they're talking? Absolutely. I have this need to fix the words, even if the other person never knows. It's how I keep myself right, for writing later. (Hear something said incorrectly enough times and let it go unchecked, and you'll find yourself adopting the error.)
When it came to our wedding, my husband and I decided which traditions we wanted to follow and which ones weren't for us. (Most of them weren't.)
All that to say, I think there's a balance to be found, between rules and order. And that balance is probably different for everyone.
Some people positively thrive in chaos––but I am not those people.
Recently, I got the urge again to do some art*. It's an urge I've spoken about here before, and one that comes around periodically. Because the thing is that I love art, but so rarely do it. Because I have so very few skills yet (because I don't do it. Vicious cycle, I know). I also wasn't sure where to start.
Instead of starting, I stopped and thought. What would I need? I asked myself. And from there wondered what I already had. So I set out to make a list of all the art supplies I currently own. And then I realised that everything I had was completely disordered, mixed together and spread across several different drawers and storage boxes in my office. From there, I tried to put all the like items together (all the pens in one place, all the paperclips in a single tub etc), but soon found it was a losing battle, as the drawers and storage boxes would only let me do so much.
They weren't fit for purpose.
So I did some online research (i.e. watched approximately fifteen thousand YouTube videos of other people organising art supplies) and decided I needed a new drawer unit. I picked one out, wrote down the details, went to Ikea, spent the morning in a queue, the afternoon assembling pieces of wood, the rest of the day resorting all of my art supplies.
The day after that, I finally sat down to colour in.
That probably sounds crazy, right? Entirely excessive. Except do you know what? It made me so, so happy! Continue reading →