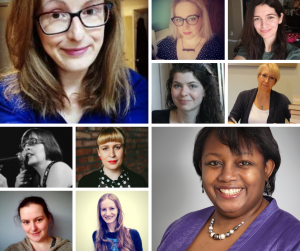 It seems to me that, in most cases, the people we admire and aim to emulate often have no idea how well they're thought of. Particularly, I think it's true of women. We often don't know our worth, and how would we when no one really talks about their inspirations?
I'm here to change that. Because I know that, on the occasions people have given me encouragement and/or praise, it makes a world of difference. It matters because those people you think are so great have just as much imposter syndrome as the rest of us. Sometimes more, if they're successful.
It can be easy to think that there's no need to tell someone with awards coming out their ears how their work impacted you – because surely they should already know, and doesn't it go without saying?
Dear reader, say it. Always tell your heroes how you feel, just in case they're not feeling so heroic.
I've been thinking some more about the specific people I really respect in terms of writing. This is in addition to Colin Dardis and Anna Sheehan, who I have previously recommended on this blog, and in a similar vein to a post I wrote for 'Women Writers, Women's Books' a long time ago.
My list is as follows:
I found Jen through her YouTube channel and have been falling in love with her words ever since as she continues to bring out wonderful book after wonderful book – short stories, bookish non-fiction, poetry, and children's books.
When I started to read as an adult, Malorie's books were the first I picked up. No matter than most of her writing is targetted at under eighteens. I actually have a picture book by her that I tresure.
Claire impresses me on multiple fronts as she turns her hand to poetry, copywriting, journalism, and books for children and is fantastic at all of them.