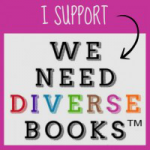 I've heard the phrase "we need diverse books" batted around for a couple of years, now. And I've always agreed, always shared tweets and statuses that said as much, with great enthusiasm. But, well, that was kind of it. I thought it was the place of publishers to see what people wanted and to respond, but now I know that there needs to be more. I, personally, feel compelled to do something – to take action instead of saying words. But where do I begin? I asked myself. And the answer is that you can only really start from where you're already at. For me, that place was YouTube.
I watch a lot of 'BookTubers' – that is, people who make videos specifically about books for YouTube – and so I began by looking through recommendation videos, trying to find out who the people I follow, follow. That introduced me to a few new faces, but it still didn't feel enough. I did a search for diverse booktubers, and came up with some more. Subscribed to those, and watched their videos; had a look at what they were reading and recommending, and now I have more diverse list of voices that I'm listening to, as well as a list of books by black, LGBTQ+, and disabled authors to check out.
I'll share with you the begins of that list now*, bearing in mind that it'll likely be added to, and that lists mean nothing if I don't actually go out and listen to the voices and read the books. You can keep up with what I read, right here on this very blog, but without further ado:
YouTubers/BookTubers to Follow
Books Added to my TBR List
I also really want to re-read the Noughts and Crosses series by Malorie Blackman
---
*I'm incredibly sorry if I got any of this information wrong. If you spot an error in my listing then by all means let me know and I will fix it.