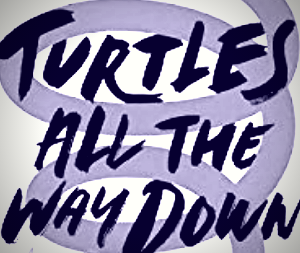 So, I just finished reading Turtles All The Way Down by John Green and it got me thinking. John's books are great for that. In this recent one of his, my favourite parts were the beginning and the end – the way he introduced his thoughts and the character, and the way we said goodbye to both.
The main character, Aza, muses a lot about life and death, beginnings and endings (as well as a lot of other things!).
She thinks that happy endings aren't really a thing – that they usually turn out to be, on closer inspection, either not that happy or not an actual ending. Aza also thinks that the only real ending there can ever be is death and/or extinction.
I have thoughts on both these points, but what I think is actually more interesting is the reply Aza's best friend gives, saying it's not really about all that, but about the frame with which we look at such things.
It reminded me of a quote by another well-loved Young Adult author, Rainbow Rowell. She's asked pretty frequently about the ending of her book Eleanor and Park and why she left it open, and the official answer on her website is, "I don't believe that 17-year-olds get happy endings. They get beginnings."
I like that answer. There's a lovely truth to it. But here's the other side of that coin: it's scary when it's not true.
Let me unpack that for you:  Continue reading →